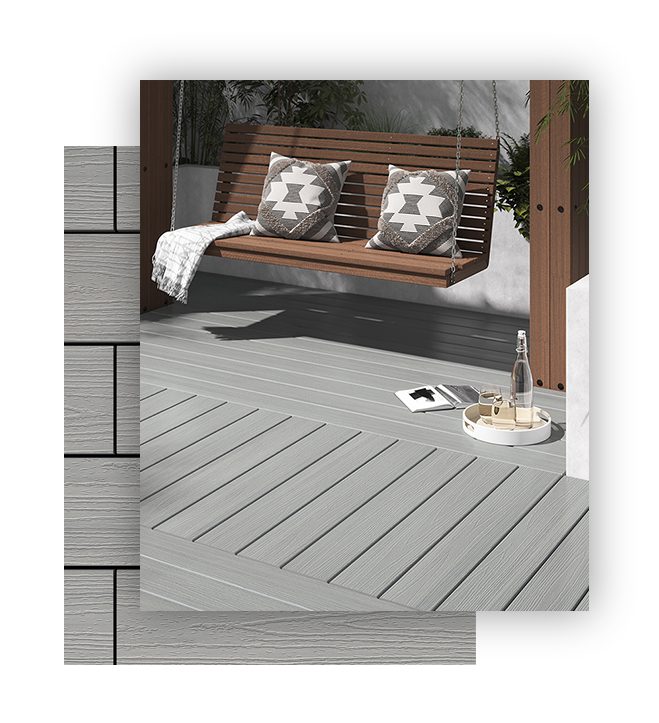 Composite decking screws to complement our decking ranges
When fitting composite decking systems we know that the devil's in the detail. That's why our composite decking fixings have been designed by our inhouse experts to complement each product range and provide the perfect finish.
On this page you'll find a simple guide to using our decking fixings and composite decking screws. For more detailed information, please download our installation guides or give our team a call.
Contact us
Our high-quality composite decking screws have been designed to match the job in hand, whether screwing into metal, composite or timber substructure. Our full range is colour-matched to each of our deck boards, minimising the visual appearance of the fixing and ensuring a seamless finish.
Our stainless steel composite-to-metal screws have been carefully designed for use with either steel or aluminium sub-frame substrates.
Likewise, our composite-to-timber and composite-to-composite screws have been designed to work with both timber and composite sub-frames to ensure a solid structure and added peace of mind. Manufactured from stainless steel, the composite screws have a Torx-head drill bit included in the box for ease of use.
Traditional screws are not suitable for use on our composite decking boards as they pose a risk of damaging the boards if not properly utilised, and will hinder the aesthetic of your finished deck.
Smartbit® (for Ecodek Signature, Stadia and Heritage): For pre-drilling and countersinking the board in one simple operation, the Smartbit® has been specially designed for use with composite decking and will greatly reduce installation time as well as providing the professional aesthetic you desire. When using Ecodek composite decking screws, we highly recommend the Smartbit® to help give your composite decking a clean and immaculate finish.
Spacers: Our composite decking spacers should be ordered with every order and are designed to enable quick, easy and effective spacing between or at the ends of our composite decking boards.
Specifically manufactured with our boards in mind, the spacers help speed up the installation and will ensure that correct gaps are maintained in line with installation instructions.
Each of our spacers has both 5mm and 10mm within its design and when used during the installation process, you can be certain that your finished composite desk will present a stylish and professional aesthetic.
Our capped decking collections (Evolution and Parks) are installed using a hidden clip fixing method.
The clips are screwed into the substructure and provide a snug fit into the accommodating grooves along the sides of these boards. These clips also dictate the required space between the deck boards.
When employing a picture frame within a capped decking design, the use of a square edged board would be preferable to the grooved edge of the rest of the decking. In this instance, the hidden clip system would not be suitable, so an alternative face-fixed system is available. This uses our composite decking screws, described above, that are counter-sunk deep into the decking board and the resulting hole above the screw head is masked with a colour matched plug.